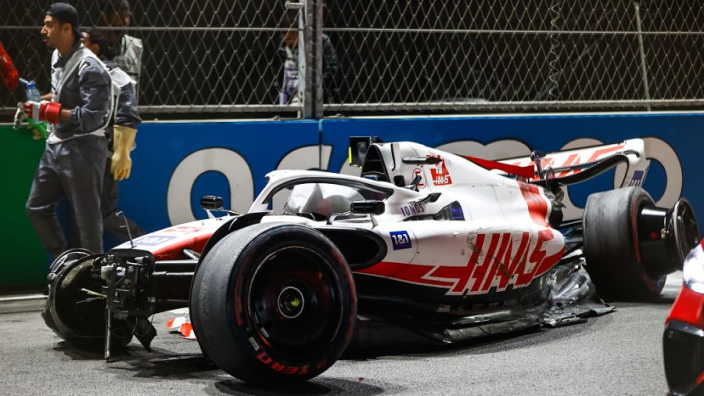 Mick Schumacher reveals lack of components not fitness sidelining him for Saudi Arabia GP
Mick Schumacher has revealed that only a lack of components kept him out of the Saudi Arabian Grand Prix on Sunday as he would have been fit to race.
Schumacher was involved in a horrific high-speed smash against a concrete wall during qualifying that destroyed his Haas, with the VF-22 shattering in the rear at one point as the marshals tried to pull it off the track .
The 23-year-old German was then airlifted to a local hospital but was quickly released and returned to his hotel after medical checks gave him the all-clear.
Haas, however, quickly made the decision to pull Schumacher out of the race, with team principal Guenther Steiner initially suggesting it was for preventative health reasons.
But speaking on his return to the F1 paddock before the race, when asked if he was physically fit to drive, Schumacher said: "I would be ready to race.
"But component management and car parts, in general, we have to deal with, otherwise I would surely be able to race.
Suggesting to Schumacher that he knew immediately after his crash that it would be difficult to race, he added: "It's the second race, the spares are usually quite difficult at this time of year, so I thought it might be difficult.
"But nevertheless, I still hoped to run."
New aerodynamics contributed to the shunt – Schumacher
In the second qualifying session, Schumacher hit a curb at turn 10 which caused him to lose control at 150 mph into a wall.
McLaren's Lando Norris, for his part, suggested changes need to be made to this part of the track to avoid a repeat, either in the race or for future track events.
Schumacher suggested that the current new aerodynamic regulations contributed to his accident, given the ground effect, with the cars now being much lower.
Reflecting on what happened, Schumacher added: "From what I remember last year, it was less of a concern just because of the way the cars were built, with a very high rake, the car in the air.
"Today the cars are quite low at the rear, and especially on this circuit, as soon as you hit this curb, which is quite high, the rear tires lose contact with the surface.
"That means there will be a bit of a snap, which we saw from two other drivers in Q3, they had a tight moment.
"I think it's something that people will definitely have to review and see, fix if we come back here."