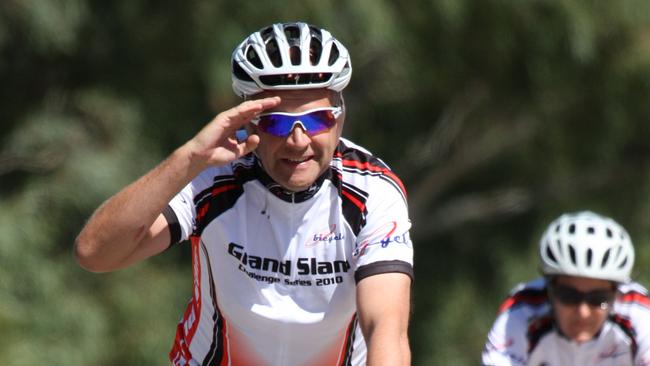 The fitness benefits of cycling are undeniable, removing helmet laws will encourage more people, writes Andrew Fenton
HELMET laws enjoy wide public support in Australia because they seem logical. But any law that prevents people from riding their bikes is a terrible law, writes Andrew Fenton.
THE Bicycle Network has just announced that it is revising its position on mandatory helmet laws.
That's a big deal considering Australia's largest cycling group has been upholding the law for three decades now.
The move comes amid growing awareness that laws can do more harm than good.
Helmet laws enjoy wide public support in Australia because they seem logical.
Studies have shown that wearing a helmet when bumping your head in an accident reduces the chances of death or serious brain damage by up to three-quarters. That's why I wouldn't dream of mountain biking without one.
But the problem with helmet laws – and the reason why only New Zealand and the United Arab Emirates currently have similar laws in 191 other jurisdictions around the world – are the unintended consequences. When the laws were introduced in the early 1990s, around a third of cyclists disappeared overnight. I was 14 at the time and cycled to school every day. Within a month, I got fined and literally quit cycling for a whole decade, until I visited Amsterdam on vacation. My girlfriend says she didn't ride a bike anymore until she met me almost 20 years later.
Any law that prevents people from riding bicycles is a terrible law. At a time when inactivity is a major cause of preventable death, it is also a terrible result for public health.
The health benefits of cycling are astounding. A five-year study of 263,450 people published in the British Medical Journal last month found that commuter cyclists had a 41% lower risk of death than other people from whatever cause. it is heart disease, respiratory disease or the like.
That's after factoring in traffic accidents in a country without helmet laws. Cyclists also reduced their risk of cancer by 45%, which is up there. with stopping smoking.
Why the hell are we fining people for that? We should pay them.
While it is difficult to quantify the precise number of people deterred from cycling by helmet laws, research conducted by the TAC (but never officially published) shows that 28% of Australians surveyed cited dislike for helmets as a factor that discouraged them from cycling.
And a survey of 1,000 people by the Cycling Promotion Fund found that 15.7% of people say helmet laws are the number one reason they don't ride a bike. If extrapolated to the population, this equates to roughly 3.8 million Australians.
Obviously, not all would get into cycling if the law were changed, but even if only one in four did, it is still a million people that the law currently discourages from cycling, although it may be. cut their risk of death by almost half.
Think about it: Helmet laws designed to save a handful of people from death from head injuries each year are contributing to the deteriorating health – and earlier deaths – of hundreds of thousands more Australians.
A 2009 Macquarie University cost-benefit analysis found that once you factor in the health costs of fewer cyclists, helmet laws are actually costing Australia. $ 300 million per year.
In an ideal world, of course, we would probably all wear a helmet and enjoy the health benefits as well – but we don't live in an ideal world.
Some people find them uncomfortable or embarrassing, or just hate the fact that they mess up their hair. Image-obsessed teens think they don't look cool. None of these reasons are objectively very good, but they are real.
One of the main reasons that helmets prevent people from riding a bicycle is because they make cycling seem much more dangerous than it actually is.
The bike is very safe. An NSW study found that you had to cycle every day for 30 years before sustaining an injury requiring medical attention. Separate research in the BMJ has estimated that it would take a few thousand years of daily riding before your helmet saves you from brain damage.
If that sounds like a stretch, consider the fact that there were 43 million trips on New York City's public bikes before a single fatality occurred. That's the equivalent of 2,500 years of non-stop cycling in one of the busiest cities in the world. And this poor biker went under the wheels of a bus, so a helmet wouldn't have helped anyway.
The perception that cycling is dangerous has had a disproportionate effect on Australian women, who ride at about half the rate of men (who have a greater risk appetite). In many parts of Europe, cycling rates for men and women are roughly equal.
Of course, Australian conditions are different from Europe, but we already know what will happen if we relax helmet laws here. The Northern Territory amended its law in 1994 to allow driving without a helmet in low-risk situations such as footpaths and bicycle lanes.
Their injury and death rates are the same or lower than other states; they have the highest proportion of recreational cyclists and two-thirds more commuter cyclists. Twice as many women cycle in the NT compared to the national average.
In contrast, New South Wales quadrupled helmet fines last year and cycling rates fell sharply. In 2015, 16.7% of the population rode a bicycle every week. That year, that number had fallen to 12.5 percent. Increased fines for bicycle traffic violations for "safety" reasons have convinced around 300,000 people to stop cycling. How is this a good result for the state health system?
Fortunately, things are slowly changing: the ACT government has committed to an expert review of the evidence to decide whether helmets should be optional for low-risk driving (to increase participation rates). A 2013 Queensland parliamentary inquiry recommended relaxing helmet laws on all roads at 60 km / h and below and the councils of Brisbane, Sydney and Fremantle have all repeatedly expressed their support for the relaxation of mandatory helmet laws.
Mexico, Israel and Bosnia and Herzegovina have all repealed their helmet laws due to the adverse consequences.
It is time we did the same.
Andrew Fenton is a freelance cyclist and writer.